Happy Wednesday, y'all!
We've made it halfway through the week & I'm so thankful and ready for the weekend already.
Today I wanted to share some more wedding inspiration with y'all because it's Fall and that means that wedding season is back in full swing.



Favorite Engagement Photo:
I love the simplicity of this shot. There aren't any fancy props, no model-y empty stares at the camera, no designer shoes. It's just the two of them, all of the focus is on the beautiful couple.
Find this and more fun inspiration of all kinds at the
Cup Half Full
blog.
Favorite Wedding Venue:
Plantation weddings have always had my heart, they are gorgeous and elegant. I love the large trees framing the plantation home and the brick aisle. Can you imagine how beautiful this would be in the Fall? And the wedding photography would just be incredible.
Favorite Wedding Gown:
This gown is from
Allure Bridal
and I'm completely obsessed with it. From the vintage lace details, to the overall way that it is fitted-there is nothing that I don't love. I also love that they paired it with detailed cowboy boots for a more rustic look, perfect for a Fall wedding!
Favorite Bouquet:
This is my definition of the perfect Fall wedding bouquet. The sunflowers and daisies are beautiful & I love the burlap lace wrap instead of just regular ribbon.
View other pictures of the wedding that featured this bouquet
here.
Favorite Wedding Cake: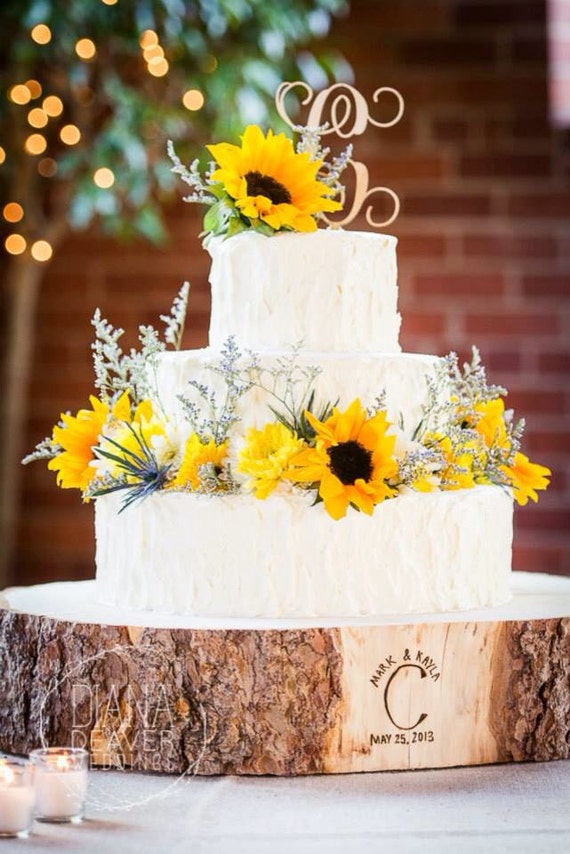 There are so many things that go into the perfect wedding cake other than just how it tastes. This
rustic tree slice stand
(with the initials & wedding date carved into it!) make the perfect base for any wedding cake.
Then you have the sunflowers that are tucked all around it, which would match your bouquet if you got the one pictured above. Then the initial that is placed at the top just brings everything together. Perfect for a country-chic wedding! Not to mention I love the way the butter cream on this cake isn't just frosted on flat, it has dimension and texture.
Favorite Wedding Sign:
Normally this is where I would post some chalkboard art, but when I saw this
pallet sign
, I couldn't resist it. For a Fall wedding, the dark wood of the pallet is perfect & don't you just love the sweet saying? I know when I get married I don't want a seating plan at my reception, it's so much more intimate and casual without! Plus, I know I can count on my precious big sister to paint up one of these signs for me...right?
Favorite Floral Design:
Barrels just scream Fall decor & these wouldn't be a disappointment. I can envision these welcoming guests to the ceremony spot at an outdoor wedding, framing the aisle. I could even picture them at the reception, framing the doors or entrance there or beside the serving tables. Those flowers up top are so bountiful and gorgeous too.
See more images from this beautiful, rustic wedding
here.
Favorite Bridesmaids Dresses:
I know there is some controversy about the color Nude for a bridesmaid dress because it's so close to white, but personally I can get on board with this trend!
I love the ones that are borderline between Nude & Blush, and especially if they are long gowns-they're so appropriate for a Fall wedding.
They make the perfect backdrop for any color of flowers, so all accent colors will match well.
Visit
this website
for more details about this wedding & the beautiful bridesmaids dresses.
Favorite Wedding Photo:
Since I started with an engagement photo, I felt it was only right to end with a wedding photo.
A lot of time I focus on the Bride & Groom when I pick my favorite wedding photography shots, & I should-it's there day. But when I stumbled across this shot of a Maid of Honor and a Bride, I knew I needed to include it. A Bride and a Maid of Honor have a special bond, and I feel like this picture fully showcases a portion of their special friendship. Pictures that show laughter and emotion are some of my favorites.
Well, there it is! I hope y'all enjoyed my Wedding Wednesday round-up, I scoured my two Pinterest boards dedicated to weddings,
I'll Wear White & You'll Wear Out the Words I Love You
and
Engagement & Wedding Pictures
. So give me a follow & leave comment below with your Pinterest name & I'll give you a follow-back as well.
Remember to follow on Instagram @SouthernStylista for inspiration all day long!
Until next time. . .
xoxo, SS