Y'all, I had a plan.
I made a to-do list.
I was going to write every. single. day. out of last week.
But yeah, life happened so that definitely didn't happen.
This week was the last week of regular classes before my last two finals next week, so it was full of presentations, a paper, and tying up loose ends before the semester comes to a close.
So tonight, even though this isn't a regular posting time (or posting day!) I want to share last month's favorites with y'all so enjoy!
It wouldn't be a Favorites blog unless I included the candle from Bath & Body Works that I've been burning lately & this one is incredible.
It is so sweet & minty, but not in an overpowering kind of way.
It's the perfect scent for the holidays!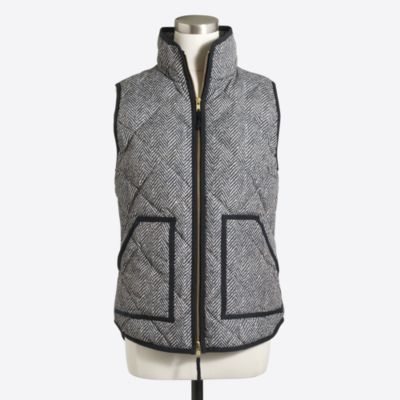 I bought this vest way back in August because 1) they were on sale & 2) I heard that they sell out really fast, so I jumped on it.
Once it arrived, I panicked. How much would I really wear this?!
Well, the answer is...almost every single day.
It's so easy to layer over everything from sweaters to long-sleeved tees.
I even wore it to my wedding dress appointment *I found THE DRESS by the way!*
Ya know when I mentioned wearing the vest above over sweaters?
This is the exact sweater I was suggesting.
It comes in so many great colors and I own...four...yeah, I'm not even sorry.
Monogram App
Call me a typical white girl, call me a Southern belle, I don't care.
If it's not moving, I'm more than likely going to monogram it.
This app has SO many cute backgrounds (plus you can use your own pictures!)
I think it's free & then you can buy upgrades for just a few dollars.
It's one of my favorite apps!
**If you're interested in a "What's On My Phone" post, let me know in the comments!**
Favorite Shows:
I finally got caught up on Grey's Anatomy, so Private Practice was of course my next step & I have to say that I love love love it. It's almost as good as Grey's, just with less eye candy.
Trisha's Southern Kitchen is also one of my "must-watch" shows, she's so down-to-Earth & hilarious.
Plus, every recipe she makes is something that I would make for my own fiance' and family.
Omg, omg, omg...I love the Pioneer Woman!
Can you tell I spend wayyy too much time watching The Food Network?
Ree is the exact type of woman that I inspire to be, she is a great wife & mom, her home is absolutely gorgeous, and she is an amazing cook.
Plus, the ranch they live on? The blog she writes? It's all perfect & exactly how I want to be when I "grow up".
Favorite Video:
I try to get into Dancing With the Stars every year & I just can't.
I watched this episode though & this video had me absolutely cracking up!
I'm honestly surprised Tommy Chong didn't have a heart attack during this dance.
Plus, when he mouths "talk dirty to me" it makes me almost cry from laughing so hard.
Go. Watch it. Now!
Favorite Songs:
Wild Child: Kenny Chesney
This totally describes me perfectly, specifically the line "She's a wild child, got a rebel soul with a whole lot of gypsy wild style". It's such a sweet, easy-to-listen-to song. Grace Potter's voice also lends that little extra something that makes it perfect.
High Cotton: Alabama
This song is close to my heart for a couple of reasons & this month I've been bringing back this oldie but goodie.
First of all, the band Alabama is obviously from Alabama (fun fact, C knows Randy Owen & his family, they raise purebred Hereford and Angus cattle at their farm Tennessee River Music Farm)
Plus, this farm just reminds me of the way my daddy talked about growing up & it also relates to my connection of the land that I love.
"We were walkin' in high cotton, old times there are not forgotten, those fertile fields are never far away"
It's perfect for singing at the top of your lungs while you drive down back roads or even just listening to it playing softly in the background while you're cramming for finals!
I hope y'all enjoyed my random miscellaneous favorites for this month, I know they were all over the place!
Be on the lookout this coming up week (maybe even tomorrow!) for a post of my tips for surviving finals week, my Christmas playlist, & my top 10 gifts $20 and under!
I can't wait until next time!
Until then. . .
xoxo,