There are a ton of huge decisions to make when planning a wedding.
The dress, the cake, the venue...but the invitations are another biggie.

They cost a lot, they set the mood for the wedding, and you'll have at least one as a keepsake forever.
So, it's very important to get it right :)
Today I'm going to share with y'all my top picks for wedding invitations and I'm going to attempt to cover all price ranges and different places you can purchase!

You also get a sneak peak of my invite :)
I'm not really sure why these are coming across as blurry on the blog (they most certainly aren't on the website!)
While we didn't choose this option, I love the idea of incorporating your engagement pictures onto your wedding invite.
These are $9 for 10 invitations, which are some of the least expensive that I have seen.
I also like that you can order them in groups of 10.
This is on a completely different end of the spectrum, at the more high end of $4.50 per invitation.
I love the heavy look of this invite and the rustic almost chalk-board background.
I also love the border and the interesting shape!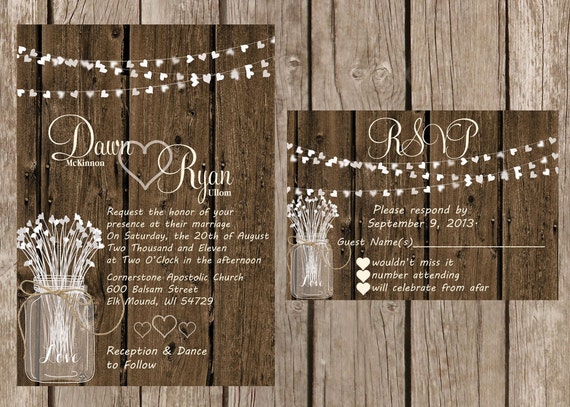 As you can tell by most of my posts, my wedding is going to be very rustic-chic.
These invitations from Etsy would be perfect for a wedding with the same theme!
I love that these come with RSVP cards, which we ended up not doing because I didn't want to fork over the extra cash for them!
These come in at $1.45 a piece, which isn't bad for having something hand made just for you.
Also, I love the idea of ordering through Etsy because it means I'm helping feed someone's family and not just supporting another corporation.
I know what you're thinking, Wal-Mart for your wedding invitations?
But y'all-are these not very Kate-Spade inspired?!
I was shocked at how many pretty options they have, great font choices, and even different paper choices!
Plus, this style is only $0.99 per invite!
Once again, this is blurry here-but if you click on the link above you can see it without the blurriness!
This was actually a high contender for our wedding invites, I love the florals and the gold foil on the letters.
These come in at $2.60 per invite, which is a really good deal in my opinion!
Our invitations also came from
Minted
I've linked them above so you can see the samples and all that, but above is our actual invite!
They were actually about $2.40 per invite because we ordered over 100.
The reason we chose Minted over all the less expensive options is not only because I just loved this invite-but also because they address all of your envelopes for free!
It looked so professional and saved my hands so much pain and suffering.
I'm not getting sponsored by Minted in any way, but I just wanted y'all to know about it-future brides, it will save you so much time!
I hope y'all enjoyed this little Wedding Belles post!
Several people have asked if I will continue doing Wedding Belles after we get married (in 17 days!) and I have decided that I will.
It may not be every Wednesday, but I have honestly loved every part of planning my wedding and I hope that I can continue to help future brides :)
If you would like me to continue, please let me know!
Also! I almost forgot to mention-visit
www.SimpleAddiction.com
and spend $7.50 & receive a free gift! Also don't forget to use the code SOUTHERN10 at checkout to get 10% off all orders :)
Until next time. . .
xoxo,