Thanksgiving is one of my favorite holidays.
There is just something about the warmth, the laughter that we share as a family, and not to mention the yummy delicious food.
A lot of times we forget about Thanksgiving & move straight forward to Christmas-but this year I want to take a special moment to cherish Thanksgiving & to enjoy celebrating with both my family & C's family...it's our first Thanksgiving as an engaged couple!
Below, I'm sharing several of my favorite Pinterest recipes that you could feature on your Thanksgiving table.
Also, I'll be sure to link all of my foodie boards below so you can explore for even more delicious ideas!
Sausage Stuffed Jalapeno Peppers
These peppers are amazing!
C grew peppers in his garden this year & so all summer long we had a big supply of them, they were perfect when we had a huge group of friends over & they're such an easy appetizer (when you have tons of people especially!)
Crack Potatoes
When they call these crack potatoes...they are not joking!
My friend (& Maid of Honor!) made these when we had dinner at her and her husband's house one night & I've been craving them ever since.
They are so easy & you can make them for a large crowd-they're even great to take to pot-luck dinners!
Tennessee Honey Corn Pudding
This corn pudding may have several ingredients, but guess what?
It's so worth it!
It's the perfect side, a little bit sweet-a little bit creamy.
This recipe is enough to make for your entire crew, so if you're only making it for 4-6 people make sure to cut it in half!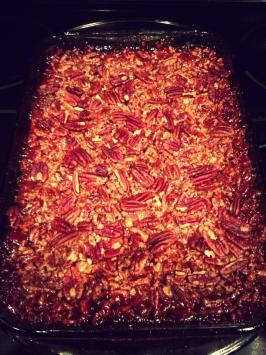 Pecan Cobbler
I crave pecan cobbler, mostly because I love the flavor of pecan pie-but I don't always like the crust.
This cobbler is the best of both worlds, the creamy caramel flavor & the crunchy pecans.
Plus, you can get more servings out of this than a regular pie so it's great for serving your whole crowd!
Cherry Pineapple Dump Cake
This cake has only five ingredients. You read that right. FIVE.
And it only takes about five minutes to put it together.
It's sweet & crunchy-it's perfect for a family get-together.
Southern Caramel Cake
This cake is so comforting.
It's a real old fashioned recipe & perfect for a sit down dinner with all of your family.
Plus, who doesn't love creamy, caramel icing?
Explore more options on my Pinterest boards...
Thanks for reading along y'all!
Until next time. . .
xoxo,